I am so excited to introduce you guys to Ami of Ali Lily! Ali Lily is one of my favorite blogs to visit and I am sure once you stop by it will be one of yours too!
Hello there Wildflower & Whimsy readers! I'm so happy to be here today! April has become a great friend! Dare I say "pen pal" I know that shows my age!! I have had such a great time following Wildflower & Whimsy. I'm so excited for what is to come this year. Even better than all the craftiness, I know it's going to be a blast watching our kids grow!
So, this is me. I am Ami a born n raised Texan who has lived in Arizona for just over a year now.
I married the sweetest, funniest, most lovingly awesome man named David.
We have a sweet little girl together.
Sweet little princess girl is my niece Angie, but the lady bug is mine! So is that hottie handsome hubby!
This is our sweet Alice Marie or Alie for short.
AliLilly is named after her!
I started creating jewelry while pregnant and on bed rest with my sweet Alie. I opened up my Etsy Shop in January of 2010.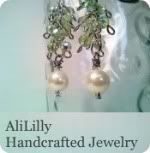 All my new found craftiness is TOTALLY inspired by you wonderful ladies! I love to blog about my crafty adventures, I love to post tutorials, I love to post about the jewelry I make. This is some of what you will find at AliLilly.
I post recipes from time to time too!
and some of my jewelry
I'm just trying give back a little of all the inspiration you ladies bring me everyday. That is why I love to blog.
Thanks so much, April for having me over today!!!
Told you guys you'd love her! ♥