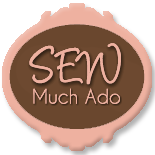 I am really excited that Abby from Sew Much Ado has agreed to be a Wildflowers & Whimsy sponsor for ABE 2.0! Abby's blog was one of the first that I started following. She has got a ton of great tutorials, and not long after I started following her blog she came out with her first pattern that is just absolutely adorable!
Isn't she just precious! And what a sweet thing to make for the little girls in your life. I know Sophie would love to have a doll I made just for her!
Gathers & Giggles Quilt
If I ever do make a quilt...which I have been terrified to do for some reason...this will definately be my first one. You know I'm crazy for ruffles...well this isn't exactly ruffles, but ruffles, gathers, all the same to me...adorable!
Mommy & Mia Apron Pattern
I absolutely adore the sweetheart neckline! And even better....ruffles on the sweetheart neckline! Plus, it has pockets! Cute!
And she has donated all three of her patterns for my ABE 2.0 giveaway!
Don't forget to check out her blog, too! Because as I mentioned before she has got lots of great tutorials! Here is her latest one:
Anthro Knockoff: Brocco Bobbies
So pretty!