Okay...my apologies! I was supposed to be giving away a bracelet every weekend until Jan 14th and I have already missed two! The holidays have just been crazy...fun, but crazy and I totally forgot! So I am going to play catch up! I will officially start Sew Crafty Saturday next Saturday. I will most likely put it up late Friday nights and leave it open for the weekend. Please help me get the word out by adding my button to your list of linky parties, and somewhere in your post. I know it's late but I will go ahead and put it up today and leave it open through Monday.
Now for the giveaway. In case you don't remember, this is Isabella.
Deleea and her family are adopting her and Deleea has started Orphaned No More, 3000 bracelet campaign as a way to raise money to bring Isabella home.
3,000 Bracelets Campaign
"this is an opportunity for everyone to change the life of a precious child.... to minister to an orphan.... to help her family one day hold her in their arms and tell her that she is orphaned no more... she belongs to them.... to her family.
And you will get something sweet, sassy and fun in return...."
You can read more about Daleea, Isabella, and their family
here
and you can read more about the campaign
here
.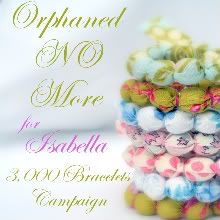 I will be giving away one of these bracelets every week until January 14th. All you have to do is post the Orphaned No More button on your blog and leave me a comment saying you did so.
Extra Entries:
Write a post about Orphaned No More on your blog. ( 2 entries)
Share Orphaned No More on facebook or twitter. (1 entry for each)
Please leave me a comment for each entry.

Note: Once you have posted the button or written a post etc. you will contiue to be eligible each week for the giveaway just drop by and post another comment (leave me a comment for each entry) And if you wrote a post about it maybe just add a little reminder with a link to the older post in one of your new posts. This isn't neccasary but it would be nice.
More ways to help:
or
You can simply go to Orphaned No More and click on the donate button!


The giveaway will be open until Wednesday, January 5, 2011. There will be two winners who will be announced Thursday.